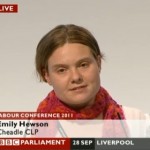 I attended the Labour Women's Conference and really enjoyed listening and being inspired by so many people that day. It was such the right thing to go to, to be inspired and encouraged by other women Labour activists. This is a massive thing for many women across the party who are from many different parts of the country. Sometimes in local parties, women can feel either that they're not being taken seriously enough or that somehow they're being drowned out. Often, this is by one or two men who say they are pro-women but dominate the argument anyway. Take for example, the men I spoke to on twitter who suggested that as a party of equality we shouldn't need a women's conference or women only sessions. The issue with this, is that again it's almost an arrogant assertion like I just described. 

The fact is, that although huge leaps forward have been made with regards to gender equality, we do still live in a society which still often favours confident, loud and outspoken men who can confidently talk the talk with little action and go unchallenged, and women often feel like they have to work far harder to get anywhere. So, although I truly appreciate that there are loads of men who are really positive, pro-active and pro-women, (and especially those male friends who have been very supportive), there are still the men who dominate the conversation, often with very little new material and find ways of excluding often very competent and intelligent women from the debate.
It's for this reason that providing space for women to meet and share and be encouraged, is so important. Women value friendships and find encouragement and inspiration by meeting together. Giving women space to come together allows us to empower each other and there is that feeling that collectively we are stronger. The Saturday gave me so much confidence to take a real part in debates and discussions in various fringe events across the main party conference, to get involved and talk to people, and ultimately to make a speech in the Education Debate on Wednesday afternoon. Having time to meet so many supportive and encouraging women really helped to give me the confidence I needed to make the most out of the full Labour Party Conference. For that reason I'm grateful that the Women's Conference was at the beginning of what was a truly memorable week.