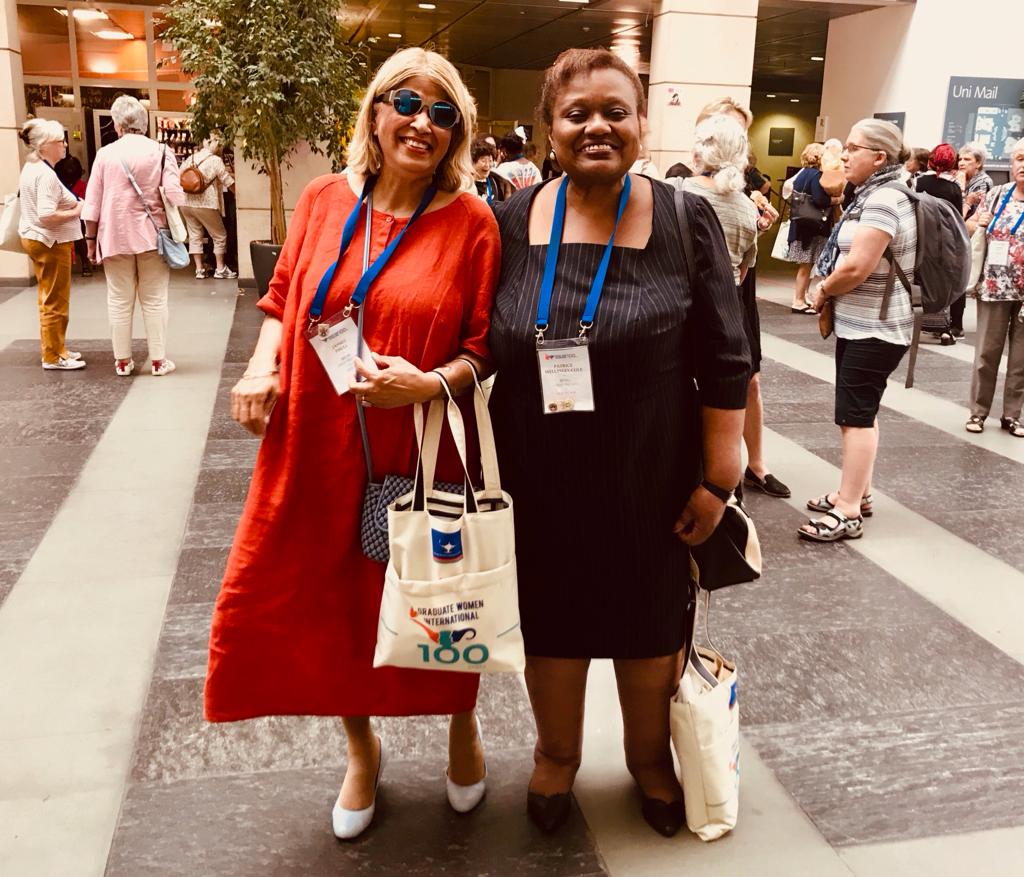 Myself and President elect Jasmit Phull in Geneva
Perfecting the art of friendship ' is BFWG's motto.
It is a privilege to be BFWG President for the 2017-2020 Triennium, one of the oldest (1907) Women's organisations in the country which functions as a non- political , diverse but inclusive national Federation consisting of LAs/Local Associations and Independent members grouped into Regions. BFWG is affiliated to GWI ( Graduate Women International) which has consultative status with the UN , headquartered in Geneva ,umbrella organisation for over 50 similar member countries Worldwide and is also a member of UWE / University Women of Europe( Council of Europe consultative status). It is a leading Women's organisation (part of the 6-0 with Soroptomists , WI and others that work together) which fought for female suffrage and equality and is the only multi- disciplinary Women's NGO in the UK. Famous past members include Marie Stopes and its Patron  is Baroness Greenfield CBE.
BFWG offers awards to final year PhD students , is involved in projects,research,lobbying Government and interdisciplinary networking and friendship, see the website for LA Programmes round the country.
As President I'm effectively CEO as a Director of both BFWG,  which is a company limited by guarantee and its subsidiary  Ffwg / Funds for graduate Women , a medium sized charity with investments worth eight million sterling , one of the largest providers of post graduate scholarships in the country. It is a full time job and every day I have a full email bag. I am ex officio on all our committees and  Chair the Executive meetings  and annual AGM. BFWG is managed by the MT/ Management Team which I head (and whose meetings I chair which meets twice a year) supported by three Vice Presidents  (who are also Directors as are the Regional Representatives and CIR/ Coordinator of International Relations ) who all constitute the Executive along with the Chair of Finance.in the Interim we communicate by email. We operate as a team as the VPs have their responsibilities such as membership and Public Relations .Our HQ are in Battersea , London where meetings take place. We plan and approve the National programme which includes the annual Westminster seminar at the House of Lords , sponsored by a Baroness  and international day , where relevant and decide the annual theme. This year's was ' Women in academic life' , which dovetailed with our project. As President I represent BFWG in all legal matters nationally and internationally and am responsible for data compliance and the Website  ( with our Google analytics manager) drafting annual reports for and on behalf of the Executive and the AGM and  have oversight of financial matters and sign off the annual accounts. In respect of any general Resolutions passed at AGMs, it is my responsibility to write to the Minister concerned which I did with the one on Careers advice in schools in 2017.  I'm one of the proof  readers of 'News' our quarterly magazine , each edition which by law is deposited in the BL/British Library . We have an independent Editor whose decision is final – front page is on the Website. In every edition I write a President's letter and I also send out bulk mail monthly a President's letter. It is my mission to visit all the LAs in the country having visited most of them during my tenure in office. This year I travelled to three , namely Canterbury, Lincoln and Newcastle where on each occasion  I gave a talk on ' Human rights , Human wrongs ; Immigration in the context of Brexit' then answered questions. I also attended the Northern Regional meeting in Leeds . It is customary for a VP or President to go to the annual Regional meetings. If any problem should occur in or with an LA , it is the responsibility of the President to resolve this which often involves travelling to the LA for an emergency meeting which I have done during my Presidency   This is my ' trouble shooting ' role  which is often exercised during the Executive or AGM when there is a constitutional or procedural problem  or threat of an LA disbanding ,after consulting our Constitutional Advisor and MT.
Apart from being ex officio on BFWG 's two Charities , namely Scholarship Trustees and Ffwg , ( see above ) the latter chaired by James Beardmore , I'm ex officio on the Finance Committee and the newly set up Working party on allocation of LAs to the Regions. Twice a year representing BFWG I take part in the '6-0 '. This comprises the country's leading 6 women's organisations, along with NCW / National Council of women ( last year I was a panellist at their international London conference and my contribution was tweeted about) , Soroptomists,TG/ Townswomens Guild, Soroptomists, WI/ Women's Institute and Business and professional women/ BP. We rotate venues and Chairing coincides with which 6-0 HQ we attend. We plan collaboration on matters of mutual interest.
BFWG internationally
———————————
As BFWG members we are all automatically members of GWI and UWE. GWI has UN Representatives in Paris , Geneva and New York. GWI ( previously IFUW ( International Federation of University women ) was one of the proposers of CEDAW / the Convention on all forms of discrimination against women. As President I led the BFWG delegations to GWI and UWE Conferences and am one of the two voting delegates – BFWG has two votes. I liaise with GWI HQ on any matters that might require attention. Voting on Resolutions and elections requires consensus , so we usually have an International day beforehand in HQ to determine our voting strategy. As President I ensure that members are aware of the UN days , content of GWI updates sent fortnightly ( although some members get them direct ) possible dues increase , Resolutions and any matter affecting BFWG internationally. The same goes for matters pertaining to UWE.
Recently , in July in Geneva at the GWI 33rd Triennial Centenary Conference I led and voted on the eight Resolutions and took part in all the Business sessions . Along with the American and Canadian Presidents I was Honorary Co – Chair of this centenary Conference with them because our three countries were founding members  of IFUW/ International Federation of University women in 1919. As such I briefly addressed this International gathering at the celebratory dinner at the University on Thursday, 25th July , 2019.
Achievements
——————-
1. BFWG was awarded a plaque for excellence presented to me at the UWE Conference in Rome in 2018 – a first for UWE and BFWG.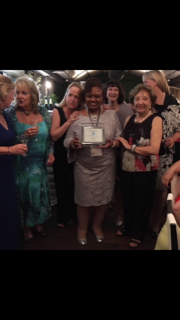 2. BFWG was voted one of the country's leading STEM organisations in 2018.
3. As BFWG President Honorary Co- Chair of the GWI centenary Conference in Geneva (as above. )
4. VP Dr. Gillian Hilton's project on ' Women in academic life ' where with members she interviewed 50 women in academe has International recognition.
Aspirations for Women.
————————————
I look forward to a World where there is gender parity in Politics, all the professions and the Work force, generally, where women do not encounter any form of discrimination,
direct or indirect and their lives are free from violence, conscious of the SDGs /
Sustainable development goals   .
Patrice Wellesley- Cole
BFWG  President