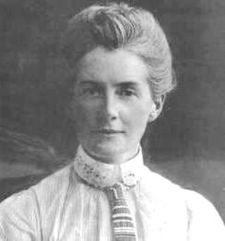 I felt pretty fed up with the choice of Lord Kitchener to be on the £2 coin.  He represents all that I have always loathed about the First World war – the jingoism, the sheer waste of men, the "Lions led by Donkeys" mentality
And then I thought of Edith Cavell, a heroine of my early childhood.  The nurse who was executed for giving succour to all wounded soldiers regardless of nationality.  The woman "who is celebrated for saving the lives of soldiers in Brussels from all sides without distinction. She and Belgian and French colleagues helped over 200 Allied soldiers escape from German-occupied Belgium. She was arrested, tried with 33 others by a German military court, found guilty of 'assisting men to the enemy' and shot by a German firing squad on October 12 1915".
"I realise that patriotism is not enough, I must have no hatred or bitterness towards anyone"  These are her last words . She did not want to be remembered as a martyr or a heroine but simply as "a nurse who tried to do her duty".   In the year in which we commemorate the First World War  she should be honoured by her country as a woman who was one of the best.
If you agree then please sign my petition to the National treasury calling on it to issue a £2 coin remembering her and the very different way in which she saw duty, not just to country but to humankind.